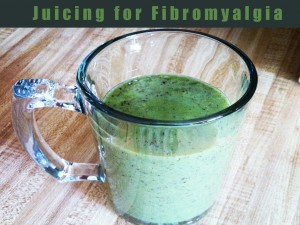 Fibromyalgia is very painful and this condition is effecting so many people. There are some Studies showing that juicing + a healthy diet often reduces the pain symptoms of fibro. Fibromyalgia sufferers should consider doing a juice detox. A juice detox can elimate the toxins that could have been built up in your system.
I am not any type of certified expert, however having family members affected by fibro, I strongly believe that toxins within the body that are not elimiated properly is a main cause of fibro pain. In my honest opinion these toxins stay in the cells and muscles, causing more pain.
A  well balanced and proper real food diet can turn this condition around for many. You might find it hard at first, but after some time you might be surprised. Try it!
Juicing helps to feed and cleanse your cells. This helps to keep your body functioning properly. I would recommend juicing at least once every day. When possible start slowly adding some greens to your juice daily.
Fruits and Veggies to use in your Juicing
Here are a few fruits and vegetables to add to your diet either to eat or juice.
Apples, Beets, Broccoli, Cabbage, Cauliflower, Celery, Fennel, Green Beans, Jersalem Artichokes, Onions, Squash, Sweet Potato, Watercress
Herbs to use in your Juicing
*Alfalfa*, Astragulus (builds immune), Burdock, Calendula, Dandelion, Echinacea, Evening Primrose Oil, Garlic, Licorice, Milk thistle, Parsley, Slippery Elm Bark Powder, St John's Wart or Valerian (for nerves), Tumeric
Energy & Cleansing Juicing Recipe

1 handful of spinach
3 sprigs of parsley
1 handful of watercress
3 apples
Cut  apples into wedges.  Add the following and juice them: watercress, spinach, parsley and apple, alternating produce. Serve immediately.