5 Fibromyalgia Websites You Need To Bookmark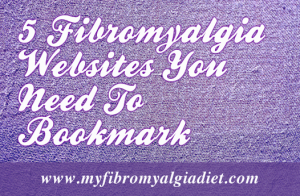 I still get surprised.
It never ceases to amaze me how many people feel like they are in this alone. That they are one of only a select few dealing with fibromyalgia. I receive messages like this every day.
Fibromyalgia can feel like you are running into a brick wall over and over again. Sometimes it seems there will never be an end to the struggle and it is hard just to make it day to day. It is hard for anyone else to understand if they are not going through that same struggle.
However, there is hope in knowing that you are not alone! My Fibromyalgia Diet exists to help you find treatments and resources that help you deal with this condition. As well as provide encouragement and lift your spirit.
We are not foolish enough to think that we are the only good resource out there and are more than pleased to share other sites for you to check out often. This article will highlight 5 Fibromyalgia websites you need to bookmark today!
The National Fibromyalgia Association is a 501(c) 3 nonprofit organization whose mission is: To develop and execute programs dedicated to improving the quality of life for people with fibromyalgia.
Founded in 1997 in Orange, California, by Lynne Matallana and Karen Lee Richards, the National Fibromyalgia Association (NFA) is the largest nonprofit [501(c)3] organization working to support people with fibromyalgia and other chronic pain illnesses.
For more than 25 years the Fibromyalgia Network has provided advocacy, awareness, and education for people with this condition. Many of these services areperformed free-of-charge due to the substantial lack of social support and understanding for people with fibromyalgia. There are ton a free articles for you to read and we highly recommend taken advantage of this resource.
This site has been developed as a "work of love" by Maurice and Mary Clarke. Mary is a Fibromyalgia sufferer for over 30 years. They have been married over 40 years and live in Rugby, UK and have 4 grown up children and 3 grandchildren.
The site is based on their knowledge and experiences of the illness, and how acceptance of it has changed across the UK and indeed the world. The strain it puts on public health services and finances is enormous, plus the sufferers and their carers remain confused over many aspects of Fibromyalgia and ask countless questions over what is it? do I have it?, what can I do to treat it? is there a cure?, etc.
Since 1980, the ACPA has offered peer support and education in pain management skills to people with pain, family and friends, and health care professionals.
The information and tools on their site can help you to better understand your pain and work more effectively with your health care team toward a higher quality of life.

The purpose of this website is to disseminate information that is accurate and beneficial in improving the quality of life for those suffering from fibromyalgia. We no longer have to live with practitioners or care givers that do not believe this to be a real entity because its existence is recognized throughout the world medical community. Fibromyalgia is due respect.
What sites do you find as valuable resources for you? Please share your list in the comments below