Two Old Goats Lotion for Fibromyalgia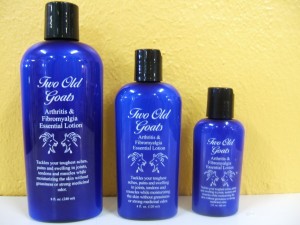 I found an post about this interesting Lotion while searching pinterest, It actually claims to tackle the toughest aches and pains caused by arthritis and fibromyalgia. Sounded pretty curious so I did a little research and here is what I could find. Remember, to always consult with your physician before trying anything new

Two Old Goats Arthritis & Fibromyalgia Essential Lotion
This lotion is a goat's milk lotion base combined with Aloe Vera, Almond Oil, and 6 natural anti-inflammatory essential oils; German Chamomile, French Lavender, Rosemary, Eucalyptus, Peppermint and Birch Bark. Two Old Goats website claims that these ingredients work together as both an anti-inflammatory and an analgesic.
Now we have posted a lot about many of these herbs and oils in separate blog posts, so it would stand to reason that putting them together in lotion would make sense.  I mean instead of taking 15 different vitamins, I take 2 multivitamins everyday. Just maybe instead of trying each herb on it's own, it would be more convenient and helpful in one lotion?
What I found Others Saying:
Samantha on pinterest says:
"Just bought this after seeing the pin and reading the reviews. It brought my excruciating aches down to where I can function and not think about the pain (but it doesnt get rid of the pain!) If that makes sense.. the nice thing is you only need to apply very little to the area. If they knocked down the price I'd buy more. Oh and the soap is ok.. didn't notice too much…hope this helps!!

"
Donna on pinterest says:
" This lotion is wonderful. Works great on my fibro pain!!"
Miss Sophie from Blackberry Creek Blog Says:
" Somebody on Facebook, I believe, mentioned this lotion, Two Old Goats Arthritis & Fibromyalgia Essential Lotion one day last week. I researched it and decided to order a bottle. Nothing ventured, nothing gained, right? Well I ventured, and I gained. The stuff is great. I'm not touting it as a miracle cure or anything. But it does help. I rub a little on in the morning when I first get up, and several times throughout the day. It even helps the back condition some."
Calicocat626626 From webmd forums says:
" Hi everyone! I am sorry that you are all here suffering with me! I just wanted to add my two cents in on what helped with my pain. My step dad found this lotion called Two Old Goats that says it is designed for those with FM so he bought a small bottle for me. ITS AWESOME!!! I just put about a pea sized amount on my fingers and spread it over my neck and shoulders (the worse spots) and about 15 mins later my muscles do not hurt as much. I want to emphasize that it does not completely remove the pain, but it does lessen it a great deal, especially during flare ups. It smells great and one of its natural ingredients helps my nerves calm down so my muscles can relax and not feel so bad. They do have a website selling this lotion but it can get a little pricey the bigger bottle you get. I would only get the "trial size" first as the lotion spreads really well and you can see if it will work for you. My step dad found the lotion in a wood working parts store (as it says it is also good for arthritis), so y'all could check there. Good luck everyone and I hope you all have a pain free day!! "
Where to buy?
There are some small boutique stores I have found online selling them. However, the three most popular places I have found is through http://www.twooldgoats.com, ebay.com and amazon. We also carry it at our store here on the site.
What do you think?
Sound to good to be true? Could be, is it worth a shot? I would think so! Try it out and let us know how it works for you

References: www.twooldgoats.com/page/page/4792030.htm, pinterest.com, blackberrycreek.typepad.com/blackberry_creek/2013/05/heres-whats-happening.html, forums.webmd.com/3/fibromyalgia-exchange/tip/261